Sometimes, we eat these lettuce wraps with no lettuce at all! They are great as a chip dip, with a spoon, or bundled up in lettuce!
If you are looking for a healthy lunch idea, that is filled with veggies, gluten free, and seriously delicious- look no further than these Fiesta Lettuce Wraps!  The filling for these wraps is delicious enough to eat with or without the wrap- In fact, we scooped one for our wrap, and one for our mouth until the bowl was gone!   This lunch is great for weekends, but may you could also send it to school, un-assembled, and then let your kids put it together.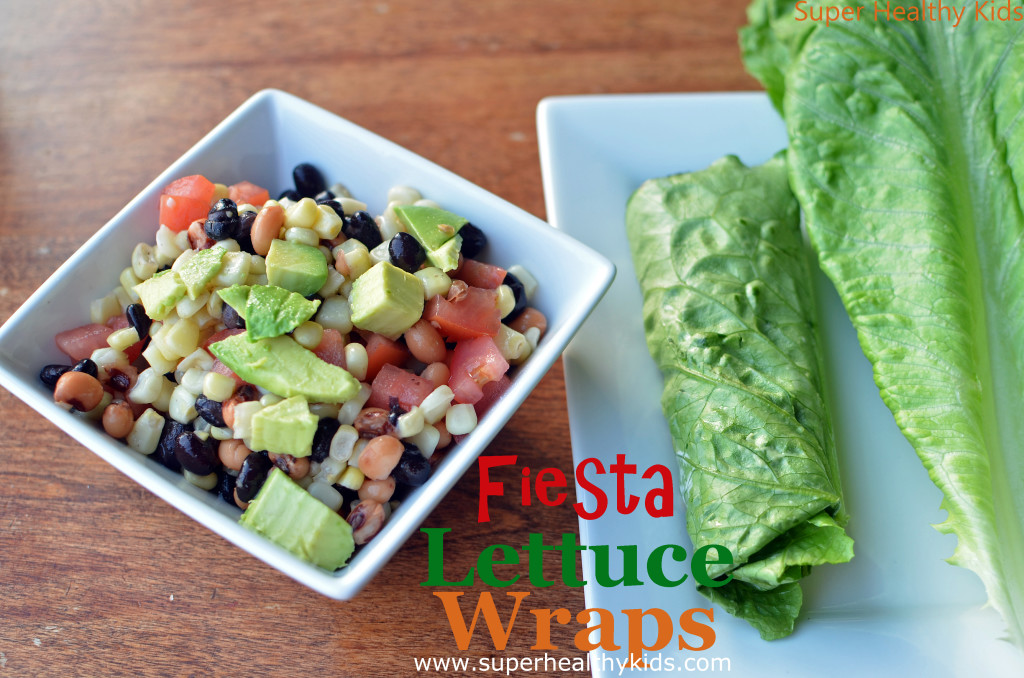 Any way you serve it, we love it because it has:
Protein and fiber rich beans!
Brain boosting Avocado
Heart healthy bell peppers
Fiber filled corn
and tomatoes full of lycopene!
So we mixed up our filling (recipe below)
Then, we got a big leaf of Romaine Lettuce, and scooped about 1/3 of a cup of the mix onto the lettuce.
Then, we rolled it up like a burrito:
This wrap is difficult to keep together, so we wrap a paper towel or napkin around the bottom to minimize bottom fall out.
And that's it! This is a recipe that we always have ingredients on hand for and is always a favorite.
While we aren't opposed at all to tortilla wraps, sometimes we do just like to wrap our filling in lettuce. Contrary to popular belief lettuce isn't a food void of nutrients.  Romaine lettuce has:
Fiber
potassium
vitamin B1
Vitamin B 6
Chromium
Vitamin C
Folate
Magnesium
and even omega 3 fats!
We like to eat romaine lettuce in salads, on sandwiches, or as a wrap like we did in this Lettuce Wraps Recipe.
Want more healthy eating ideas and more meal ideas? Check out our meal planning service! We provide ways to incorporate fruits and veggies at every meal.  Full details here.